Another week down, another show online. I'm way too good to you folks.
August 27th show DOWNLOAD
In other news, the
Teen Choice Awards
just passed, and let me be the first to say "Who cares?!". Giving young people the idea that their opinions matter is how we get categories like "Best Hissy Fit" and people like Keanu Reeves starring in the remake of
The Day The Earth Stood Still
. JiggaWhat? Yeah that's right. I'm not kidding. Though, I can't say nay that much. I do have both
Bill & Ted
films proudly on my shelf...and who knows, it may be good. Perhaps Keanu could also play the role of Gort, which somehow seems more fitting.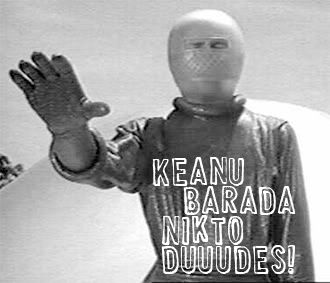 I also snagged a limited edition copy of the score to
Hundra
by
Ennio Morricone
, who shows us that you can never be too uppity for naked sword wielding babes.