Howdy folks,
With the
Toronto International Film Festival
wrapping up tomorrow, everyone has been talking about snobby flicks. I thought I'd take a moment to mention two films I'm very excited about, but for completely different reasons.
To me, a film is all about entertainment... whoa whoa whoa now, don't think I can't totally snob you when talking about artsy cinema. I can pull out buzz words like
mise-en-scène
and
motivated cuts
if I have to, but sometimes I just want to be entertained properly. Such is the case with the new Korean mega-monster, city destroying, eye popping, crash fest that is
D-War
. Yeah, it's a Korean movie, if you've already seen the English trailers or the
American Website.
It came out today, and I'm going to see it ASAP. I'll probably update this after viewing.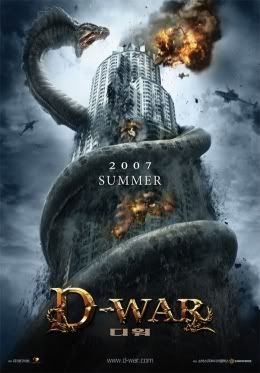 On the other side of the coin, my tastes crave something a little more sophisticated, but not too much to make me break out my monocle. At the Toronto IFF, one of my favorite Japanese directors,
Takeshi Kitano
showed his latest feature length
Kantoku · Banzai!
or the US title
Glory to the Filmmaker!
, which appears to be a revisit to the style he used in
Takeshis'
.
Takeshis'
wasn't for everyone, and from what I've been reading, his new film isn't either. Though, as a super fan...I'm sure I'll swoon completely just at the sight of my favorite deadpan, blank stare, hard ass, goofball genius.